Shopping Cart
Your Cart is Empty
There was an error with PayPal
Click here to try again
Thank you for your business!
You should be receiving an order confirmation from Paypal shortly.
Exit Shopping Cart
An oasis for readers, writers, and thinkers
| | |
| --- | --- |
| Posted on April 28, 2014 at 6:54 AM | |
On April 29, 1944, my uncle's plane was blown out of the skies over Berlin. After surviving a near-lynching by German civilians, he joined my father in POW camp in eastern Germany. Exactly one year later, tanks from the U.S. 14th Armored Division rolled through the front gate of the POW compound in Moosburg, Bavaria, liberating both brothers and thousands of other American and British prisoners.
At about the same time, my future father-in-law's unit liberated another camp, this one with a name still infamous - Dachau. On this day, we also commemorate Shoah, or the Holocaust as most of us call it. However vile life and death were inside Dachau, much of the worst of what went on in those years was hidden from us. Auschwitz, Treblinka, Sobibor - these were the real death factories and all lay in territory captured by the Red Army. Eisenhower, Bradley, Patton, and many of the other top Allied commanders were so horrified by what their troops found that they, in some cases, forced German civilians to bury the bodies lying out in the open. The mind reels at what might have happened had our troops seen what went on in Eastern Europe.
A friend who grew up in West Prussia died a few days ago. As a boy, Ewald and his family fled before the advance of the Soviet forces. They didn't make it all the way to the West. In fact, Ewald spent four years in a slave labor camp in East Germany, escaping by the grace of God and some remarkable good fortune. While he was personally guiltless in the atrocities of Nazism, when the human soul seeks vengeance, it's generally not in much of a mood to dispense justice. As often happens in life, many of the worst perpetrators died before the war ended or successfully evaded justice.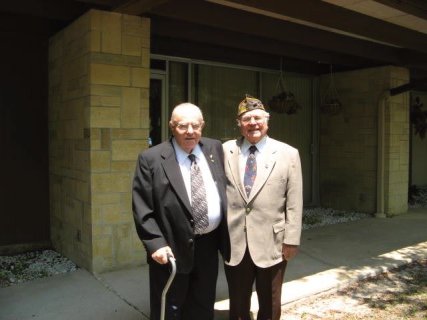 We can't always deal out justice, but we can remember. As Herman Wouk says in his monumental
War and Remembrance
, "the beginning of the end of war lies in remembrance." In remembrance of my forebears and what they went through to spare future generations from such horrors, I post this picture. It's my father and uncle at a remembrance service in 2007 honoring former Prisoners of War. Honor to those who survived; remember those who didn't.
Categories: Good an Evil, History, Research, Writing, Fiction, Life and Death
/