Shopping Cart
Your Cart is Empty
There was an error with PayPal
Click here to try again
Thank you for your business!
You should be receiving an order confirmation from Paypal shortly.
Exit Shopping Cart
An oasis for readers, writers, and thinkers
This is All Saints' Day, which is the day on which we Episcopalians traditionally sing "For All the Saints" (William W. How & Ralph Vaughn Williams) to commemorate those we love who are now gone from us.
I've loved this hymn since we used to sing it in the CHS Glee Club. It took on special meaning several years ago. In the weeks after a rash of deaths in our family, I sometimes sought out the Kings College Chapel Choir rendition of this hymn as I pondered the lives of my mother, two cousins, and several friends. The rendition to which I refer was on YouTube. The final image of this video, accompanying the words, "Alleluia, alleluia" gave me the words with which I close Faith, Hope, and Dr. Vangelis.
We're now in the final countdown toward launch of my first novel. As I prepare to spring it on an unsuspecting world, I must admit that my expectations have changed. I once hoped Dr. Vangelis would become a great commercial success. For a time, I even had a path to making that happen. The path has changed and so have my hopes. It's now my hope that those who read the story will have the kind of epiphany which I experienced. That is, I hope it will help some people who wrestle with their own issues of loss to make sense of it all.
I will be offering readers a chance to get an early look at the Kindle e-book version of Dr. Vangelis, if they will agree to write a review on Amazon.com or Goodreads. Please e-mail me if you're interested in this opportunity. #drvangelis.
I celebrate those who live on in memory: Curt and Verna Gordy; Lee and Ethel Sheppard; Paul and Ann Gordy; Foncey and Blanche Lea; Leonard Gordy; Greg Booth; Travis Booth.

One of William Faulkner's more famous quotes was, "The past isn't dead. It isn't even past." This is an underlying theme of Faith, Hope, and Dr. Vangelis, my first novel, which will be published next winter.
As I've noted in other posts, the protagonist is Dr. Lukas Vangelis, an elderly hospice physician. Weary from the burden of easing the passage of the dying into peaceful death, he begins to get messages that point him toward the approaching end of his mission. This brings no fear; most of the people he's loved in his life have already died.
What it does bring is an unwelcome imperative: dealing with his past. Lukas has never fully rid himself of the hurt he's given others, and which they've caused him. He considers himself a man of generous spirit, but the dark shadows in his past must be dispelled before he can find peace.
We all have similar demons that lurk in the crevices of our memory. I've known a few people in my life whose sunny dispositions seem to deny darkness any foothold. Yet, when I've gotten to know them better, I've usually found that, while they've shut the door on darkness, it's still lurking somewhere, ready to emerge and cause pain.
This isn't a confessional novel. I have no urge to unburden my own soul, except to note that, when I must acknowledge the reality of pain, I try to use such occasions as a way of banishing darkness, not just pushing it somewhere out of sight. I don't know, even today, how successful I've been. I believe that, when you get to know Lukas Vangelis better, you'll seen in him something that resonates in your own life.
Live long and learn to forgive.

Do you have a hidden desire for your life to be a fairytale? We might not admit it, but we do sometimes yearn for fairytale outcomes in life. We remember those favorite fairytales where all came right in the end, even after heartbreak. By the time we reach middle age, we've learned that fairytales are rare things. Sometimes heartbreak happens and there's no compensation for it and no one to blame. We learn to accept life and go on. In the face of hard realities, how can we explain to others and ourselves the meaning of life?
Every life needs a song or a poem. Songwriters and poets are gifted at making even the deepest hurt seem beautiful. Maybe we think that songs and poems are for the rich and famous, not for the average person. We content ourselves with a slogan or a pithy phrase that expresses what life's about. But it is our very humanity, or mortality that writes the words of our own songs.
My father, a pilot in World War II, always loved the poem "High Flight." In the last twenty years of his life, a framed copy of this poem hung on the wall of his bedroom. He was also a romantic at heart, despite the hard times of his youth and young adulthood. When my mother was no longer able to care for herself, he picked up that burden, often serenading her with, "Have I Told You Lately that I Love You?" The idea that a successful businessman and community leader could be at once a realist and a romantic seems paradoxical. But part of what makes a life successful is the ability to live with paradoxes.
I'm currently doing research for Meredith's Song, the working title of a book about Meredith Legg Stapleton (1987-2014), a young woman whose short life seemed to have elements of poem, song, but also paradox, packed into little more than a quarter-century of walking this earth. A tough competitor in athletics, she was also a loving wife, daughter, sister, and friend. At a moment of triumph, she entered into a battle with cancer. The last five years of her life wrote a tale of faith and courage that still illuminates our world.
I'm targeting release of Meredith's Song for early-to mid-2020.

This past weekend, I attended a memorial service for a professional colleague, a man for whom I developed a great personal respect during the years we worked in the same department. After I left the Savannah River Site in 2007, I didn't see him for years afterwards. When I encountered him at a restaurant  in 2013, we chatted as naturally as if we'd encountered each other in the hallway at work.
It was a rude shock to pick up the Sunday newspaper on a recent Sunday morning and see this man's obituary. He was seventy-three, no longer young, but no an old man as we understand that term nowadays.
I already knew that he was trained as a professional soldier, a West Point graduate in the fabled Class of 1966 (h/t: Rick Atkinson, The Long Gray Line). He did two tours as an infantry officer in Vietnam. Arguably, though, his greatest gifts were as a servant and teacher. Good teachers are, above all else, good servants. My mother was one and I can recognize the characteristics of those who successfully blend both roles.
The associate pastor of the church where the service was held gave a lengthy meditation on how his life embodied the principles of servanthood. But it was the eulogies by his daughter and son that pulled back the curtain on the man's deepest beliefs and actions. The word that kept popping into my mind was "integrity," i.e., wholeness, a personal character in which all the pieces fit together. He was of a piece, whether showing a North Vietnamese prisoner how to eat with a fork, or memorizing a lengthy lecture in Spanish to be delivered to a group of Latin American officers in Panama.
His family hosted a reception at the Rye Patch, one of the historic Winter Colony homes in Aiken. I made my way through a throng of other mourners to speak to his wife and children. When I introduced myself to his daughter, I said, "Your dad was the epitome of 'an officer and a gentleman.' But I can see one fault with him: He hid his light under a bushel.
She smilingly disagreed with me, reminding me that to serve others was her father's way of living up to the West Point motto, "Duty, Honor, Country." He just didn't want to be singled out for praise for living his life in accordancee with his values.
No one could have a better epitaph.
In memoriam, Lt. Col. (Ret.) John M. Jenkins, Sr., 1944-2018

Pain is a bad thing. That's what most of us believe, and most of the time we're right. Whether it's the dull nagging of a chronic ailment or the stab of a sudden shock, pain puts us off our game, becomes the center of attention, and wears out its welcome very quickly.
This is not to say that pain has no uses. Some pains clue us in that something is wrong with our bodies or our minds. That's not the point. I've found that one use of pain is to focus our attentions on things we can't see when all is right with the world.
Faith, Hope, and Dr. Vangelis took shape from such pain. Specifically, from the loss of three much-loved family members in early 2014, all within the space of three weeks. When my mind was clear enough of the immediate distress from those deaths, it began to zero in on the question: How do we handle it when the worst news becomes a reality? How do we handle the betrayal of our hopes? How do we go forward when our emotions tell us to run away, to do something that will make the pain stop?
In 1999, my wife was seriously injured in a head-on collision less than five miles from our house. For a couple of hours, I didn't know whether she was alive or dead. After the relief of knowing that she survived the crash, a new reality hit me in the face: things would never be the same. The consequences for her have been drastic. She lives every day with pain. It will be that way for the rest of her life.
It would, of course, have been much worse if she had died. Death is a condition that permits no improvement. The dead have no pain, if that's any consolation. We often console ourselves with the knowledge that "at least she's not in pain any longer." That is cold comfort for an empty bed where a loved one slept, an empty chair, an empty seat at the table.
The real paradox of pain is that, without it, we would never know the emptiness that would come from a life without it. Like work and love, perhaps pain is the price we pay for being fully functioning human beings. That's the closest thing to an answer I can come up with.

Dealing with strong emotions is a problem for left-brain writers like me. I tell people, "I can do romance, but I can't write about it." Grief is another problem area, a lesson I've had to learn and relearn. Sometimes having a focus for grief makes me shudder inside, until I have to face it.
As my friends know, my wife and I are partial to cockatiels. We adopted our first one as a baby, naming him "Crockatiel Dundee," or "Crock" for short. His constant affection helped to sustain us through some hard times in our family. When he flew off to the Rainbow Bridge five years ago, it broke our hearts. He died from a stroke (who knew that little birds had cardiovascular accidents?) at around 2:30 in the morning. Until we could make arrangements to have him cremated, we put him on ice. When I had done that, I went outside to cry in the predawn darkness. Why did I hide my emotions? I guess it's because, ever seen my teen years, I've kept my tears out of sight of the public.
It was easier with our second cockatiel, "Bert," whom we took in when his owner could no longer care for him. He was only with us a couple of years before he, too, suffered a stroke and left us. What I remember of my reaction was not tears, but just angry words in the dark: "Damn it, Bert, you broke our hearts." Of course, anger can easily become a cover for grief. So it was with us. We're now on our third cockatiel, "Spike," a rescue bird from the Aiken County Animal Shelter. Love means accepting the possibility – or even the probability – of loss. We just try to give him as much love as we can while we have him.
One way of letting tears out in public is to write about them. My story "Bird in the Dark" in Tangled Woods and Dark Waters was done as a therapeutic exercise after "Crock" died. Tormented by guilt feelings (Did we do everything we could to save him?), I recalled a proverb which I heard from a clergyman years ago: "Faith is the bird that flies in the dark." Over millions of years of evolution, most birds (including cockatiels) have a healthy fear of darkness, which is the domain of predators. Small, with no defenses except their astonishing speed in flight, cockatiels hunker down in the hours of darkness in the safest places they can find. So what would make a cockatiel forget its conditioning and fly off into the darkness of a winter night? You can find out by reading the book.
Because my paternal grandfather died years before I was born, all I knew of him was what I learned from my father and uncle, and the impressions of him from my grandmother. To make a long story short, I now believe that Grandma always bore some resentment at the fact that my grandfather didn't resist the demands of his brothers to loan him money. Eventually, even some land that his own mother had left to him went out of his hands. At that point (about 1925), my father's family relocated from Georgia to Florida and Grandpa went into the lumber business.
It took a ghost to make me re-think my own notions. Specifically, while doing some family research during the summer, I learned the tale of "Gordy's Ghost." I had first heard of this incident in 1994, when my wife ended a phone conversation with her mother with the question to me, "Do you know a Jim Gordy?" When I responded in the affirmative, she told me her mother had seen a story involving him on Unsolved Mysteries.
That was the starting point for my explorations. Using my friend Google, I started digging into the Gordy family background. The tale, as told on the TV show, involved a family in Ellerslie, Georgia, that moved into an old house recently vacated. During the move-in, the family's young daughter (3 or 4 at the time) came in one afternoon and told her mother she had met a nice man who had swung her on a swing. She described him as wearing a dark suit, dark shoes, a white shirt, and a tie. Her mother thought this was just another imaginary friend until her daughter reported later contacts with the man. At this point, alarmed that a potential kidnapper or child molester was on the loose in the neighborhood, they asked the neighbors for help. Families brought in pictures of every man who had lived in the neighborhood, going back several decades in the past. When the photos were laid out on the table for the little girl, she unerringly picked the photo of an elderly man wearing a dark suit. Her mother and aunt started digging into the man's background and found an obituary for "James S. Gordy," who had died in 1974. That was my great-uncle Jim.
There's a lot more to the family's tale, some of it very upsetting, but the bottom line for me was that they believe the house was haunted. They claimed later visitations from spirits that were menacing, even threatening to assault them. However, the visitations from "Mr. Gordy" were always friendly ones. They came to think of him as a protector.
This required some reappraisal of my long-held ideas about my grandfather's brothers as little better than scoundrels. However, it appeared that Uncle Jim's ghost was a benevolent presence in the lives of at least one family. His conduct in the televised episode certainly doesn't sound like the conduct of a rascal. So, I'm now left with a mystery. At least some of what I've always believed about my family may be inaccurate. Or perhaps I just have a great-uncle with multiple personalities. Losing a familiar past can be upsetting.
I tell my students that I'm related to at least two U.S. Presidents: Jimmy Carter (2nd cousin once removed) and Lyndon Johnson (9th or 10th cousin). As a result of my recent research, I also confirmed what I had heard from other sources, that Berry Gordy, Jr., founder of Motown Records, is a 3rd cousin once removed. So I have two presidents and one entertainment tycoon in the family. Who'd have thought it would all begin with me trying to track down a ghost?
We can't choose the family into which we're born. There have times when I wished I belonged to some other family, but that's mostly just blowing off steam. When I look at how many of my friends have families whose dysfunction runs deep, I consider myself blessed to have the family I have.
I grew up in a family with unbalanced relationships. Both my grandmothers strongly preferred to spend time with their families, not with my grandfathers' relatives. Growing up, I knew some of my grandmothers' nieces and nephews who lived fifty or seventy-five miles away better than I knew my  cousins across town. There are always reasons for this, of course. One of my great-uncles was gay, living his entire life in the closet. Another was (as far as I can determine) murdered. It's not particularly surprising that I have now reached the age when I hunger and thirst for information about the portions of my family I don't know well.
My father's father died in 1932. Because he and my grandmother lived in Florida then, while most of his family lived around Columbus, Georgia, almost the first chance I had to know any of his close kin was in 1969, when my family got an invitation to the wedding of one of Uncle Jim's granddaughters. Therein lies the beginning of a tale.
"Uncle Jim" was James S. Gordy (1888-1974), younger brother of my grandfather. He was in the real estate business and was quite successful. At the only meeting we had, I noted how his temperament mirrored those of my father and uncle. Dad said "Uncle Jim kissed the Blarney Stone three times." When he died five years later, my grandmother's reaction might be summarized as "good riddance." She didn't like her husband's father or brothers, whom she believed had swindled him out of an inheritance. So I've had that image of him ever since then.
This week, for no good reason, I decided to do a search for more information. What triggered this was the memory that my mother-in-law once asked me, during a phone conversation, if I had any relatives named "Jim Gordy." When I told her I did, she said she'd seen an episode of "Unsolved Mysteries" in which a man who called himself "Jim Gordy" began appearing to a little girl in Ellerslie, Georgia in 1989. When her parents got worried about this "imaginary friend," they asked their neighbors if anyone knew "Jim Gordy." They were stunned when a neighbor put them in touch with the family that had lived in the house next door. The house had for some years been the residence of Uncle Jim and Aunt Frances. Hearing this was worrisome enough that they launched an investigation. In the end, the little girl picked out a photo of Uncle Jim from twenty or so photos of men who lived or had lived nearby. Uncle Jim had been dead over fifteen years by this time.
There's a lot more to this story, some of which seems to defy credulity. The little girl's perception of "Uncle Jim" was as a benevolent protector. By contrast, she had had encounters with other spirits that were distinctly threatening. Perhaps parapsychologists can come up with an explanation for this; I can't.  I'm doing more research, hoping I can uncover the particulars of this haunted relationship.
There's another unsolved mystery about my family, but it'll have to wait. Supposedly, Berry Gordy (of Motown Records fame) is also a cousin by the wrong side of the blanket. Who knew?
On April 29, 1944, my uncle's plane was blown out of the skies over Berlin. After surviving a near-lynching by German civilians, he joined my father in POW camp in eastern Germany. Exactly one year later, tanks from the U.S. 14th Armored Division rolled through the front gate of the POW compound in Moosburg, Bavaria, liberating both brothers and thousands of other American and British prisoners.
At about the same time, my future father-in-law's unit liberated another camp, this one with a name still infamous - Dachau. On this day, we also commemorate Shoah, or the Holocaust as most of us call it. However vile life and death were inside Dachau, much of the worst of what went on in those years was hidden from us. Auschwitz, Treblinka, Sobibor - these were the real death factories and all lay in territory captured by the Red Army. Eisenhower, Bradley, Patton, and many of the other top Allied commanders were so horrified by what their troops found that they, in some cases, forced German civilians to bury the bodies lying out in the open. The mind reels at what might have happened had our troops seen what went on in Eastern Europe.
A friend who grew up in West Prussia died a few days ago. As a boy, Ewald and his family fled before the advance of the Soviet forces. They didn't make it all the way to the West. In fact, Ewald spent four years in a slave labor camp in East Germany, escaping by the grace of God and some remarkable good fortune. While he was personally guiltless in the atrocities of Nazism, when the human soul seeks vengeance, it's generally not in much of a mood to dispense justice. As often happens in life, many of the worst perpetrators died before the war ended or successfully evaded justice.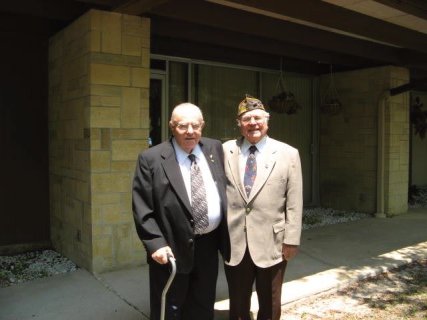 We can't always deal out justice, but we can remember. As Herman Wouk says in his monumental
War and Remembrance
, "the beginning of the end of war lies in remembrance." In remembrance of my forebears and what they went through to spare future generations from such horrors, I post this picture. It's my father and uncle at a remembrance service in 2007 honoring former Prisoners of War. Honor to those who survived; remember those who didn't.
It must be hell to be one of those persons who can't ask for or accept forgiveness. I suspect we all know at least one such individual. What makes it particularly challenging is that folks who think this way very often wind up making yet more misery for themselves and everyone else around them.
A couple with whom my wife and I have been friends for several years lost their first child, an 18-month-old girl under particularly ugly circumstances. The little girl's nanny killed her, then committed suicide, thereby forever thwarting any hope of getting an answer to the question of "why?" The baby's paternal grandfather, a hard-nosed businessman, later came to believe that his granddaughter's death was some cosmic retribution for all the nasty things he'd done to others in his professional career. To the end of his life, no one could convince him of the fallacy in his thinking.
Dealing with life can make you crazy. I know this will come as a shock of some of you, but it's the truth. Trying to go through life without giving or receiving forgiveness is something I find inconceivable.
Lately, I've done a lot of wrestling with the harm inflicted by insensate evil, i.e., those dreadful things that happen to people who have done nothing to merit their suffering. Viktor Frankl dealt with this problem in Man's Search for Meaning. His conclusion was that we always have the freedom to choose our own responses to evil. To be sure, the evils of Nazism were hardly insensate. But in trying to deal with the capriciousness of mortal illness and other evils that truly are insensate, it ought to help us to remember that we can forgive even the unforgivable. Perhaps our human ability to do that can help us to preserve our sanity in the face of things that go dreadfully, irretrievably wrong.
Forgive someone who's hurt you today. Even if they don't accept it, you will be a different person for having done it.

/